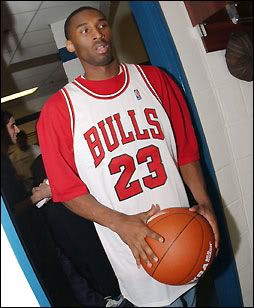 Somthing I was reading online..made me change my opinion on Kobe being the greatest ever..
Kobe vs. Jordan: Is Bryant the Best Player Ever?
by
Matt Homdis
In the past couple of days, I have written two articles that have been lambasted by many because of my supposed biased view against Kobe Bryant in this years MVP race.
Though I can take it as well as any, one comment that kept coming back time and time again, was that said Bryant was the greatest of all time, or near it.
That he is better then Michael Jordan ever was!
There was even one comment on how even Magic Johnson was better then Jordan.
As funny as that one was, Johnson not even considered the greatest point guard of all time, it did get me thinking how Bryant and Jordan stack up, and if maybe Kobe had surpassed the icon.
Let us start off by comparing some key stats both have achieved by the year of their 30th birthdays:
Bryant: 20,883 Pts (24.8Ppg), 4418 Reb(5.3), Ast 3867 (4.6)
Jordan: 21,541 Pts (32.3Ppg), 4219 Reb(6.3), Ast 3539 (5.9)
Playing more then two years less then Kobe, Jordan handily takes the stat category.
Winner: Jordan
Next, let us look at the accolades both received:
Bryant: 10 All-Star games, 2 All-Star game MVP, 6 times 1st-team All-Defense team, 5 times 1st-team All-NBA, 2 time scoring champ
Jordan: 9 All-Star games, 1985 Rookie of the Year, 1988 Defensive Player of the year, 3 time MVP, 3 time Finals MVP, 6 times 1st-team All-Defense team, 8 time 1st-team All-NBA, 3 times Most Steals in the league, 7 time scoring champ, 7 time led the league in player efficiency
Winner: Jordan
Many contend that Bryant has had to face tougher competition then Jordan did. Let's look at some teams and players both had to face off against:
Bryant: Tim Duncan and the San Antonio Spurs, Steve Nash and the Phoenix Suns, LeBron James and the Cleveland Cavs, Chauncey Billups and the Detroit Pistons
Jordan: Isiah Thomas and the Detroit Pistons, Larry Bird and the Boston Celtics, Magic Johnson and the Los Angeles Lakers, Patrick Ewing and the New York Knicks
Though the players mentioned in Jordans list are all Hall of Famers, it is too early to say those in Bryants list won't achieve the same heights.
However, it does prove that Jordan had his fair share of opponents.
Winner: Push
A true measure of a players greatness is how many titles and wins he brings to a team. So lets look at how both players stack up against each other:
Bryant: 596-331, 64.3% winning percentage, 4 Finals appearances, 3 titles, missed playoffs once
Jordan: 445-293, 60.3% winning percentage, 3 titles, 1 NCAA championship, 2 Gold Medals in 1984 and 1992 Olympics
We would call it a push, but after bringing in Jordans other accomplishments on the court, there could only be one decision.
Winner: Jordan
Statistics do not lie. Accomplishments do not lie.
How can anyone put Kobe Bryant in Michael Jordan stratosphere yet?
His career still in its prime. Kobe might one day attain or even surpass Jordan, as impossible task as that may seem.
Kobe Bryant is clearly his generations greatest player so far, but comparing him to the greatest of all time is unjust to him. He should be judged on his own accomplishments because, as you can all see, he just is not in Jordan's league.
Kobe Bryant is not the next Jordan—he is Kobe Bryant.